Exclusively at Live For Live Music on Friday December 16th, 2016 at NOON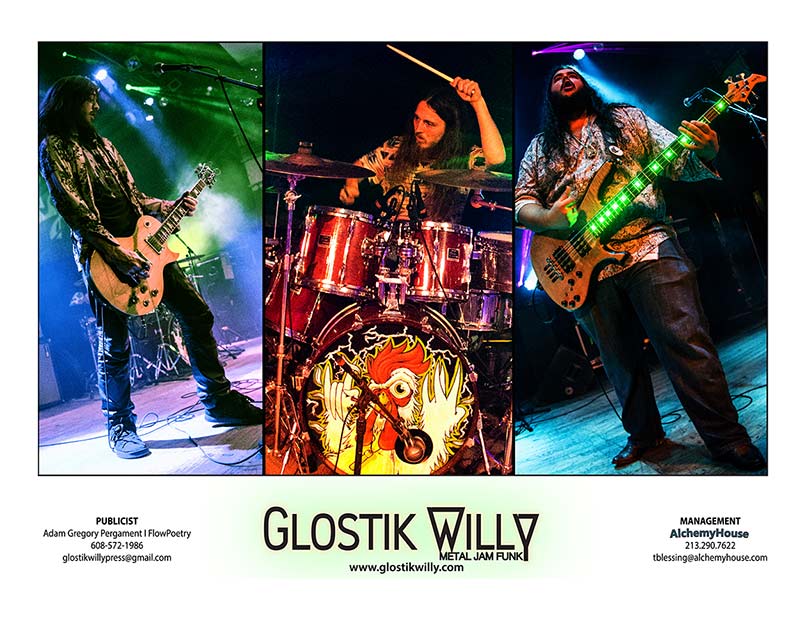 New York, NY – December 14, 2016—Glostik Willy, a three-piece funky rock trio from Marion, Indiana, premieres their new music video "Alibi" exclusively online at Live For Live Music on Friday December 16th, 2016.  The video, featuring a song off the 2016 Glostik Willy Records release Willy Town, highlights live concert footage of the band rocking their fans with hard hitting and funky jams.  This footage is sandwiched between the band's shenanigans on the road with friends, family, fans, and the occasional law enforcement officer.  Cameos include appearances by Randy and Mr. Lahey (from The Trailer Park Boys), Mick Foley (WWE Professional Wrestling Hall 0f Famer), The Bath Salt Zombies (FL), FlowPoetry (WI), and Subterranean (OH).  The video was produced by Rage View Studios in conjunction with AlchemyHouse.

Glostik Willy has staked their turf on the national music scene through heavy-hitting drums, expansively shredding guitar riffs, and thundering bass slaps. This is "Hippy Metal" for those who like their jam-bands with a dose of head-banging and horn-checks! "…Making a statement on the scene…this band is unstoppable. …Sure to make heads turn everywhere they go," raves Relix Magazine. "…very diverse (and) brings an incredible amount of funky raw talent!!" raves FM K92.3 of Orlando, FL.
Glostik Willy was formed in early 2008 by Jameson "Jay Moe" Bradford (guitar), his brother Ralf Mowf (drums) and childhood best friend Buddha Aguilar (bass).  At the time, the boys were already five year veterans of the Midwest Music scene, having started their first band together at age 12. "…Unique and talented…." declares JamBands.com.  "…Astounding performance (and) scorching hot…." writes MusicFestNews.com.
Since then, Glostik Willy has developed and sought to bridge the gap between rock and jam by forming their own genre of music that can only be described as "Hippy Metal".  To date, Glostik Willy has logged over 600 performances in more than 25 states and 2 countries.  The band has hosted eight Midwest music and arts festivals, including their signature Willy Fest (headlined this past year by Molly Hatchet), and performed sets at over 70 festivals around the country. "This band is a good old, down and dirty rock and roll machine. These guys blew me away…!" exclaims Buckeye Music Magazine. "A driving force in the Midwest scene…explosive (and) progressive…the life support for the Rock and Roll many thought was dead!" declares Isthmus Weekly (Madison, WI).
Glostik Willy continues to thrive on the road spreading their love for music to anyone with an open ear.  Their mission is to create an experience that will change the world by entertaining any and all walks of life, bringing fans, friends, and family together to enjoy and value art, love and music. To that end, they have pioneered a fan-centric method of touring in which they regularly ride along with van-loads of followers, have dedicated time and effort to supporting notable social causes in their hometown of Marion, IN, and seek to include a variety of creative expression at their shows (including visual arts, performance art, poetry, fire-spinning and flow arts). "The originators of "Hippy Metal," the band truly knows how to shred. …The Indiana trio has built up a huge fan base (for) these blistering displays of rock n' roll power." states TheUntz.com.
                                                             #  #  #